– We have a lot to build on when it comes to entrepreneurship
Bærum Municipality and Bærum Næringsforening met the innovative companies in Energy.invented at Fornebu and got an insight into what they work with and the opportunities that lie ahead.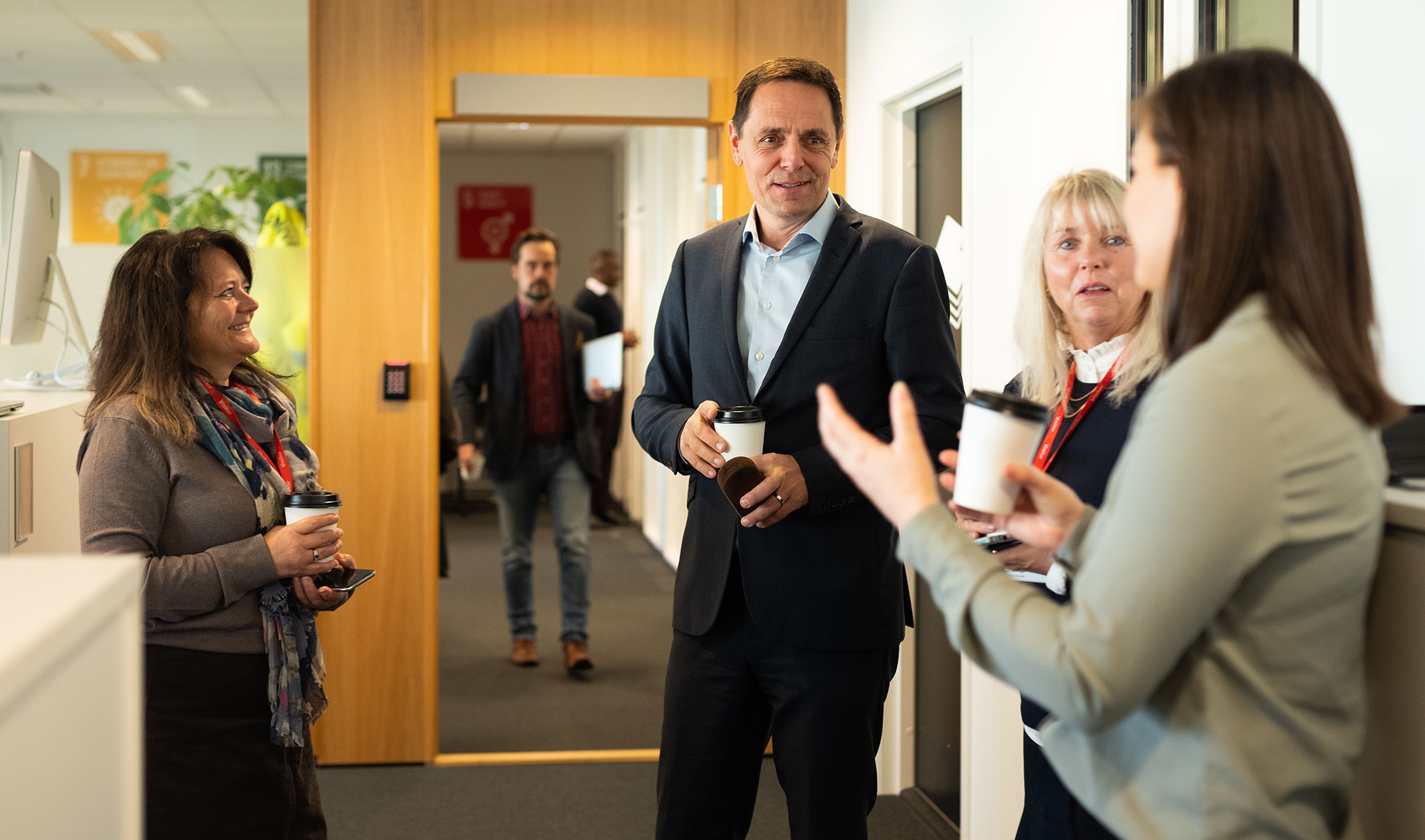 – It was inspiring to meet entrepreneurs with good ideas and feasible plans, and who succeed! This shows that it is growing in the municipality and that we have a lot to build on when it comes to entrepreneurship, says Managing Director at Bærum Næringsråd Ane Maria H. Mjaaseth.
Managing director of Bærum Næringsforening Ane Maria H. Mjaaseth visited the companies together with Managing Director at SmartCity Bærum Unni Larsen and Emilie Helgesen Grud, Strategy and Development Unit at Bærum Municipality.
The companies located on our fifth floor at Fornebu are a part of our platform for energy innovation – Energy.Invented. Here people and ideas connect across industry, academia, finance, and politics by offering meeting places and platforms for cooperation and knowledge sharing. Energy.Invented is the only accelerator and national hub within energy technology in Norway.
Experiencing the value chain
Walking through the fifth floor at Fornebu, Bærum Municipality got to experience the value chain that Energy.Invented consists of – from the start-up software company Celsia, the growth and competence management company Gevir Group (which has recruited employees for the neighboring companies) – to companies ready to take the next step with their pilots, like ZEG Power and Ocean Sun.
– We greatly appreciated that Bærum Municipality and Bærum Næringsråd took the time for a round with Energy Valley – which gave Ocean Sun the opportunity to describe what we do with floating solar systems, as well as describe our desire to be able to add some of our innovative rings for sustainable energy in the area around Snarøya, says Alexander E. Telje Chief Commercial Officer at Ocean Sun AS.
Sharing the goals for sustainability
The start-up software company Celsia is run by CEO Petter Reistad together with CTO Morten Hillblom and has set out to make it easier for SMEs to achieve their sustainability goals.
The mission is to radically reduce the cost and complexity of conducting ESG assessments. You can read our interview with Reistad about their work here.
–  We discussed how Bærum municipality and the public sector must actively use and support the net-zero goal. It's important that the public sector is also measured on its sustainability score – in the same way as the private sector from January is imposed. It was great to see that Bærum municipality shares the view that there is a defined role for the public sector in setting requirements for their projects, says CEO Petter Reistad.
An innovative environment
Empower New Energy, a development and investment company that focuses on projects for industry and business in Africa, got the chance to tell the visitors from Bærum about their work with the construction of renewable energy in emerging markets.
– We have been part of the Energy Valley network based in Fornebu since June 2020. For companies like ours, it is important to be part of an innovative environment, people and companies that share a strong desire to prevent a global climate crisis and build a sustainable world, says CEO of Empower New Energy Terje Osmundsen and adds:
– In addition, good infrastructure is important to be able to conduct video meetings with parties and customers in Africa and other continents. We find both here on the fifth floor in Energy Valley, where we also have a great view over Bærumsmarka (red.anm the surrounding forest area) in the horizon!
At the end of the Energy.Invented tour Managing Partner of Gevir Group Marianne Furru and the CEO of their neighbor next door company Tidetec Arne Kollandsrud talked about the effects and value of being co-located. This is also one of the ideas behind Energy.Invented – companies and institutions that collaborate are more innovative, more productive, and more competitive.
The other companies that met the visitors from Bærum were Ezone Green Energy AS, Pipeotech, Solenergiklyngen/The Norwegian Solar Energy Cluster, Hystar and ZEG Power.